Are you looking for the latest news and innovations?
We got you covered!

Architectural and interior design projects – especially large-scale projects – are characterised by a dynamic process. On the one hand because of the increase in numbers of construction projects. On the other hand because of the exceptional hygiene requirements due to the covid-19 pandemic. Thanks to their creative ideas, upmarket references and new products, Kusch+Co is always at the forefront of innovation.
"We care" about your hygenic safety: Kusch+Co to showcase innovative solutions at MEDICA 2022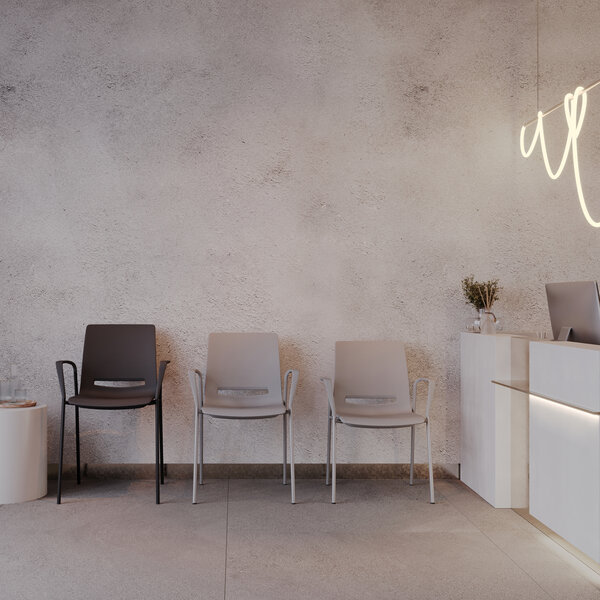 The time has come at last: after a long break caused by the pandemic, trade visitors and other interested parties can once again see Kusch+Co's innovative solutions for themselves live at MEDICA 2022 in Düsseldorf. "We care" about your hygienic safety – is the slogan that the furnishing specialists apply, and not just for the medical sector's largest international trade fair. Kusch+Co is focusing on hygiene, design, sustainability and the unique features of its new products at this show.
The pandemic has given rise to new requirements, for which Kusch+Co has developed pioneering solutions "to meet the altered needs of the healthcare sector and its facilities". Kusch+Co's new "V-Care" seating series is therefore the product highlight at its booth.
Trade fair outlook: innovative solutions for the future
Visitors to MEDICA 2022 can look forward to a range of new products, including:
V-Care – this integral polyurethane chair combines user comfort with unique design and supreme hygienic properties. "The starting point and core element of V-Care is its seat shell. It is designed not only to be and look comfortable, but also to generate a positive, friendly atmosphere in any space. The seat shell looks as if it has been shaped by natural forces," says Justus Kolberg, the designer of V-Care. The robust, slightly curved seat shell wraps itself around the body of its occupant and thus provides optimum seating comfort.
From conference rooms to libraries, restaurants and care homes: the V-Care series is designed for a range of applications and was named a "Red Dot Design Award Winner 2022" this year. Every year, this prestigious international competition accolades outstanding achievements in the field of design and product innovation.
Creva-family – the Creva family is intended to create a balance between teamwork and privacy. The aesthetic design of this furniture line dovetails with any office environment – and gives every space an exceptional, pleasant atmosphere. Consisting of Creva table, Creva soft seating and Creva stool, the product family also welcomes a new member this year: Creva wall.
Creva wall – this innovation creates a pleasant room-in-room ambiance. When combined with Creva soft seating, Creva table or Creva stool, Creva wall acts as the partition used to create function-specific environments. These customised zones provide the desired degree of privacy for relaxing, communicating, concentrating or being creative.
Genaya – this modular soft seating solution enables an infinitely wide range of versatile seating arrangements to be created. After all, the easy-to-configure modules, which are characterised by their soft contours, can be tailored exactly to the requirements of any space. Genaya is also ideal for furnishing lobbies or a wide range of different waiting areas.
Extensive expertise in all sectors
Kusch+Co provides a wide range of products and furnishing concepts involving seating and tables in modern and yet equally liveable designs for hospitals, medical practices, health centres, care and retirement homes etc. It does not matter whether such concepts involve ideal designs for laboratories, treatment rooms, patient rooms, nurses' stations, canteens, waiting areas or office facilities for doctors, clinic managers or administrative staff.

However, Kusch+Co's seating and table solutions provide much more than just outstanding seating comfort, design and functionality. In fact, they are technically sophisticated items of furniture with special properties that meet the needs of users, and therefore provide remedies in particular situations. This interiors expert has therefore added "solutions" to topical hygiene, fire prevention, bariatric seating and reduced mobility issues to its portfolio.
Kusch+Co is involved in project with TU Braunschweig and Fraunhofer IST
The "patient room of the future" was opened at the end of August 2022 on the premises of Braunschweig Municipal Hospital. This is a research project involving the Technical University of Braunschweig (TU Braunschweig) and the Fraunhofer Institute for Surface Engineering and Thin Films (Fraunhofer IST), in which Kusch+Co participated as industrial partner.
The prototype of the infection-preventative patient room of the future was previously developed as part of the KARMIN project. KARMIN is an acronym of the German words for hospital (Krankenhaus), architecture (Architektur), cleaning (Reinigung), material (Material) and infection (Infektion). As the industrial partner, Kusch+Co covers its furnishing remit through its versatile Arn chair and is able to make a meaningful contribution to the KARMIN project with the aid of its kuschmed® Hygienic Line. The outcomes of this collaborative project are continuously incorporated into the manufacturer's enhancement of existing and development of new products.
Welcome to Kusch+Co's trade fair booth
On that note, Kusch+Co is looking forward to conversations and some inspirational communication at its booth at MEDICA 2022 from
14 to 17 November 2022,
Hall 14 / Booth B55
Messe Düsseldorf GmbH, Messeplatz, 40474 Düsseldorf, Germany.
"We care" about your hygienic safety – let us shape the future together, for safety's sake.
Kusch+Co and Nowy Styl open a new showroom in London for the Clerkenwell Design Week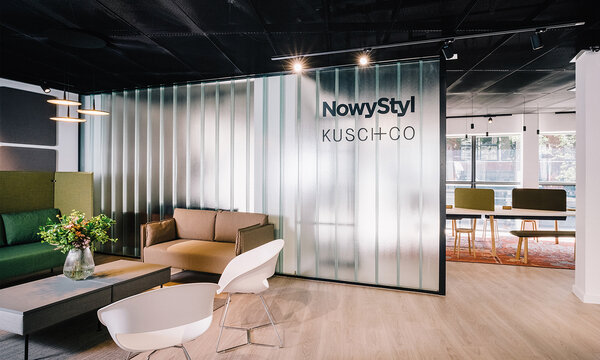 An air of an art gallery, bold colours and closeness to nature - these ideas guided Nowy Styl and Kusch+Co as they designed their new shared showroom in the UK capital. The new space will premiere on a significant date as the doors will first open for the Clerkenwell Design Week: 24-26 May.

The Clerkenwell Design Week is an independent, prestigious design festival in the UK. Every year, it attracts an international community of architects, designers, developers and design enthusiasts to the London borough of Clerkenwell. The neighbourhood is an artistic hub that has more creative businesses and architects per square metre than any other place on earth. Thousands of participants come together to spend three days filled with exhibitions, installations and showroom events.

The Design Week has the world's leading brands present their achievements, including Nowy Styl and Kusch+Co. The two brands have something special to show off at the event: it is their new, shared showroom in the very heart of Clerkenwell, at St John's Square.

"It was no coincidence we chose this location - our brands just had to have a showroom in London's design district - Clerkenwell Road and its surroundings. Every day, the address attracts architects, both those living in London and those coming to the UK capital for inspiration. Nowy Styl offers solutions for modern offices, many of which are ahead of their time, while Kusch+Co has a superb offer of designer furniture that's famous all over the world" says Bartosz Karasiński, Sales Director UK & Ireland at Nowy Styl.

The first thing a visitor sees on entering the showroom is a spacious window facing Clerkenwell Street. The space consists of two levels, the first one of which has an air of an art gallery about it that brings to mind Tate Modern. The bright, transparent space forms a non-distracting background bringing the design of the furniture to the fore. With natural light coming into the interior from both sides of the building, visitors can take a good look at the fine products.

The other space in Nowy Styl and Kusch+Co's showroom has a warmer and more subdued interior. It is dominated by earth-coloured décor, offering a sense of calmness that creates favourable conditions for interacting with art - the many paintings and design albums collected there.

"We made a point of creating a place where London designers and architects would feel at home, one that would cater to their artistic aspirations and their craving for the latest trends. It's a brand new showroom - not only because it will open its doors in May, but most importantly because it will showcase our latest ideas and, of course, our new products" says Marcin Magier, the showroom designer.

The showroom is also proud to present works created for Kusch+Co by worldfamous designers. The space is filled with works by Luigi Colani and kashkash, and the lighting was designed by Louis Poulsen and Verner Panton.

Flagship products from Nowy Styl's portfolio can be seen and tested at the new location. Cosy Tilkka armchairs and sofas that will warm up any space. CS5040 desks equipped with smart solutions. The Souly chair that embodies excellent design and a less-waste approach.

Visitors to the new space can also discover the design and quality of furniture from Kusch+Co, such as the Creva Desk - tables that have brought the aesthetics of home furniture design into offices. Creva Soft Seating - sofas that offer a new perspective on designing living rooms, lobbies and cafes. - a Embla visually light and comfortable chair made entirely of beech wood.

Visitors can also see live Kusch+Co's latest product V-Care which has just won the prestigious Red Dot Design Award 2022 for unique design. The chair was designed by Justus Kolberg whose motto is: "with sensitive intelligence to innovative simplicity". While working on the V-Care, Justus drew inspiration from nature. The V-Care is an expression of human-centric approach to design, and its name speaks for itself: "we care about your comfort". Incorporating antibacterial qualities into the seat shell is Kusch+Co's response to users' heightened sense of hygiene in post-pandemic public- and workspaces.

The Clerkenwell Design Week will run until 26 May.
Nowy Styl and Kusch+Co invite you to visit the new showroom: https://www.kusch.com/de/news
About Kusch+Co
Kusch+Co is a brand recognised around the world for its excellent quality and exceptional design of office products: chairs, furniture, and specialized solutions for the healthcare sector and passenger terminals. Our products serve people and the environment for decades and more. Timeless in design and durability, bold and made with the highest precision, they are created to provide a sitting experience with a soul. The brand concentrates its sales and marketing activities on such strategic market segments as offices, seminar rooms, restaurants, lobbies, and passenger terminals. The brand is one of the leaders in the global airport seating market. It has more than 260 international airports on its list of reference projects.

Kusch+Co and Nowy Styl open a new showroom in london
PDF / txt file / lo-res-images / high-res-images
Casual Sitting in the Business Lounge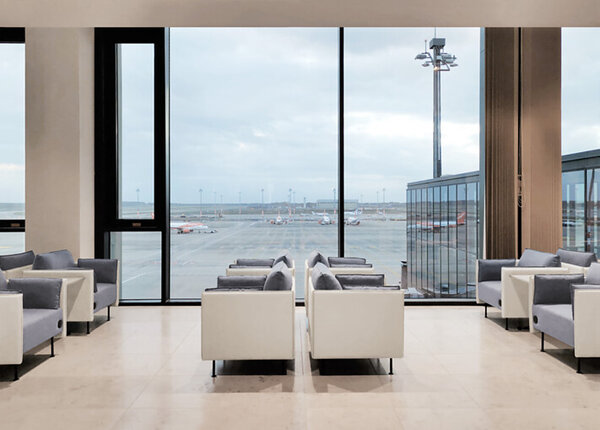 Boasting a great level of knowhow in the field of fire prevention and after having developed many inventive features – Kusch+Co furnishes two lounges at the BER airport Berlin Brandenburg with their customised design seating.
The interior design concept for the Tegel lounge and Tempelhof lounge in the new Berlin airport, the airport Berlin Brandenburg Willy Brandt (BER) was worked out in close co-operation with the architect's office Synarchitects. They selected the series Creva soft from Kusch+Co, offering a multitude of distinct variations and options.
The Tegel Lounge and the Tempelhof Lounge, the business lounges at the new airport Berlin Brandenburg Willy Brandt (BER) in the German capital, are both named after the former Berlin airports. Both the Tegel Lounge as well as the Tempelhof Lounge have been furnished by Kusch+Co, an internationally operating contract seating specialist located in the German town of Hallenberg and affiliated with the Nowy Styl business group. The detailed interior design concept was worked out in close co-operation with the architects' office Synarchitects, who extolled Kusch+Co's knowhow in the field of fire prevention and their inventive details designed to improve the user experience significantly. Whereas the Tempelhof Lounge has already opened their doors for guests, the Tegel Lounge is slated to welcome the first visitors in the spring of 2021.

Guests can look forward to a pleasant stay in these business lounges, enjoying a stylish, comfortable and exclusive interior. Some features, geared towards the guests' safety and well-being, are invisibly incorporated, such as the fact that the seating variations all meet the stringent fire prevention standards and provide the best possible hygienic safety in these times dominated by a global pandemic. Kusch+Co was among the elite circle of suppliers of upmarket seating capable of fulfilling all the criteria. This company has gained worldwide acclaim for having furnished a multitude of international airports and their global network of architects and interior designers. Their latest projects are the two business lounges at BER airport, namely the Tegel and the Tempelhof lounges: the latter was opened at the end of November 2020 whereas the Tegel lounge is scheduled to welcome the first guests in the spring of 2021.
Product variety and an expert in the field of fire prevention
Both lounges are perks for entitled customers (i.e. status customers) or paying customers in case the airlines don't have their own lounges. The Tempelhof Lounge is located in Terminal 1 in the Schengen area of the departure level in the southern Main Pier: the Tegel lounge is situated on the same floor in the norther Main Pier. In total, the Tempelhof lounge provides round about 200 seats across an area of 910 square metres, though currently limited to 130 seats. The somewhat smaller Tegel lounge, stretching over 600 square metres, can accommodate up to 180 persons. The colour and interior design concept of both lounges references the former Berlin airports they are named after.
Thomas Pöllmann, Business Development Key Account at Kusch+Co and responsible project manager for both lounges, underlines that the immense product diversity from Kusch+Co as well as their fire prevention competence were pivotal selling points for awarding the contract to the Hallenberg-based company. Thanks to past projects, Kusch+Co had established a long-time and trustful relationship to the airport operator. The interior design concept was meticulously worked out in co-operation with the Berlin- and Beijing-based office Synarchitects. Daniel Schwabe, company owner of Synarchitects, describes the co-operation with Kusch+Co as "extremely efficient and inspiring".
Elegance and cosiness
The interior design concept of both lounges is based on the strict zoning of the different areas, e.g. reception, lounge, dining, resting and conference rooms, allocating a distinct set of materials and colours to each zone. The colour schemes of the former Berlin airports Tempelhof and Tegel were updated to create a modern setting. "The seating from Kusch+Co is characterised by a timeless and unobtrusive design and a high recognition value. With these attributes, we were able to implement the sought-after modern elegance and cosiness for the lounges," explains Daniel Schwabe.
Creva soft – the lounge seating par excellence

The airport operator as well as the architects wanted to make sure that the different materials and colours were tailored to the architectural design concept. The selection of the fitting seating to create just the right lounge atmosphere was the focal point in the process. For this reason, they opted for the compact-sized and comfortable series Creva soft, available with a great variety of different variations, such as the possibility to choose between a low and a high backrest. On top of this, the optional extras for this series include power modules as well as storage tops. "We intentionally wished for small armrests, so that no one would place his cup of coffee here, tip it over and spill the content on the upholstery, as is often the case with lounge seating featuring wide armrests. Instead, in close consultation with the architects, we came up with several easy solutions at short notice," reports Thomas Pöllmann. Espresso and snacks can be placed on the harmoniously incorporated top between two armchairs.
Relaxation on a Kusch+Co design classic
A special solution was developed for a design classic, the well-known Colani lounger. This design from the 1960s by Luigi Colani for Kusch+Co was covered with a special fabric for the Tempelhof lounge with the aim of meeting the current fire prevention standards. From this vantage point, guests are able to enjoy the view in a relaxing posture through the floor-to-ceiling panoramic windows.
Comfort for all guests
The special knowhow with regard to the exacting fire prevention requirements specifically for airports as well as the capability to technically implement these requirements give Kusch+Co a cutting edge over their competitors. Some features, such as the incorporation of power and data modules directly in the armchairs, lift the user experience to a new level," confirms Daniel Schwabe adamantly, adding in the same breath:" Kusch+Co succeeded, despite the extreme time pressure, to develop and realise new technical and design solutions beyond their standard product range." Besides Creva soft and the Colani Collection – the latter only in the Tempelhof lounge – the lounges are furnished with a wide variety of other lounge armchairs, side chairs and stools selected from the multifaceted Kusch+Co portfolio, among other things the Comta high tables.
Press material for journalists

Thank you for your interest in Kusch+Co. Here you will find further media information about the company, new products, awards and references. We provide you with current information and pictures for your press work.