Worldwide, more than 260 international airports have furnished their environments with our waiting benches, seat islands or lounge furniture. These products are specifically designed for the waiting areas in airports, tried-and-tested in cruise terminals as well as bus and railway stations. Not only do they meet the high requirements regarding safety, functionality, design, comfort and utility. Thanks to the optional antibacterial surfaces - both easy to clean and allowing a safe disinfection - these products offer an improved hygienic safety. Add to this, the Fire Prevention Concept as well as the bespoke PRM solutions for persons with reduced mobility. Next to our upmarket products, Kusch+Co boasts the experience and know-how to provide specialist planning services and project management, and we are happy to assist architects and project developers.

Our portfolio comprises products suited for other airport environments like, Counter, Tower, Office, Conference, Restaurant, Services as well as Shopping and Entertainment areas. Kusch+Co always has the right product to match your vision.

Kusch+Co offers a wide spectrum of upmarket seating, characterised by functionality and top-quality design. Seating where everyone can relax while waiting.
Kusch+Co in use - references travel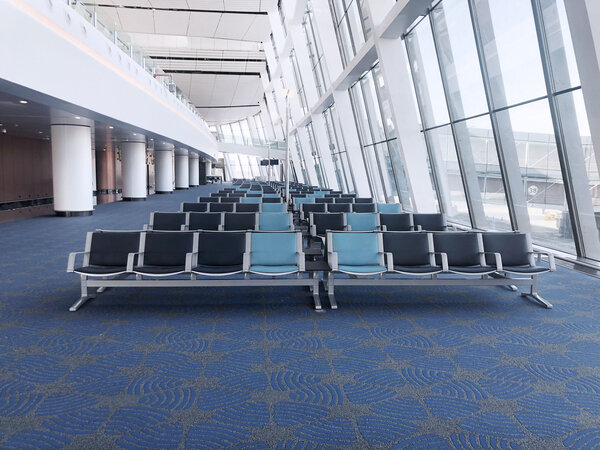 International airports best display our core competencies with regard to the travel division. Round about 260 airports worldwide have opted for the seating from Kusch+Co. One of our newest major projects is to be added to our reference list is the Beijing Daxing International Airport.
These references are an overwhelming testimony to our excellent quality and upmarket design.
Seating banner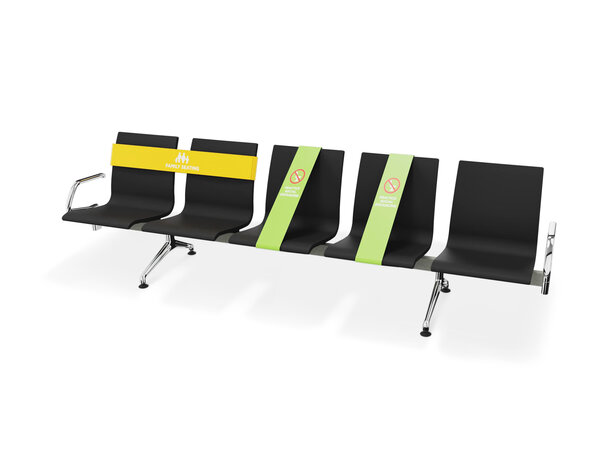 Covid-19 pandemic has a drastic impact on hygiene concepts.
Also with regard to seating!
New physical distancing guidelines are in place in all environments where travelers come together. The gates as well as the check-in counters at airports are usually very crowded – scenes like these, which used to be normal in the past, are to be avoided in the future.

We think ahead and offer physical distancing solutions that combine functionality with design.

Our seating banner, designed to bar people from using selected seats within a row, enables you, irrespective of the brand of the existing furniture, to block individual seats in a bench row with the aim of implementing the physical distancing guidelines. The banner is all-purpose, easy and flexible to use!

About 18,000 units are already in use in a multitude of international airports, such as Frankfurt Airport, Boston Airport, Oklahoma City Airport, Paris Aéroport – Charles de Gaulle, Aéroport de Lyon – Saint Exup, Aéroport de Lille, Montpelier and Dortmund Airport.

One of many solutions that we have on offer.
Hygiene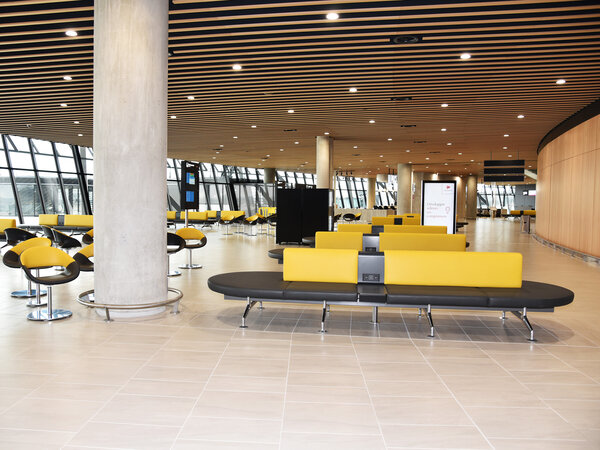 Whether wooden or metal frame, whether the seat is made of polyurethane or covered with fabric, leather or synthetic leather – the surfaces of our seating are stain-resistant, extremely hard-wearing, and geared towards efficient, hygienic cleaning.

The bench series come with cut-outs in the back, making it easier to remove left objects. Through their construction, the frames leave plenty of room, so that the cleaning staff can easily wipe the floor underneath the benches. For even more hygienic safety, the bench series are available with disinfectable surfaces as well as antibacterial surfaces. For highly sensitive areas in healthcare facilities, the kuschmed® Hygienic-Line comprises a variety of reliably disinfectable seating and tables.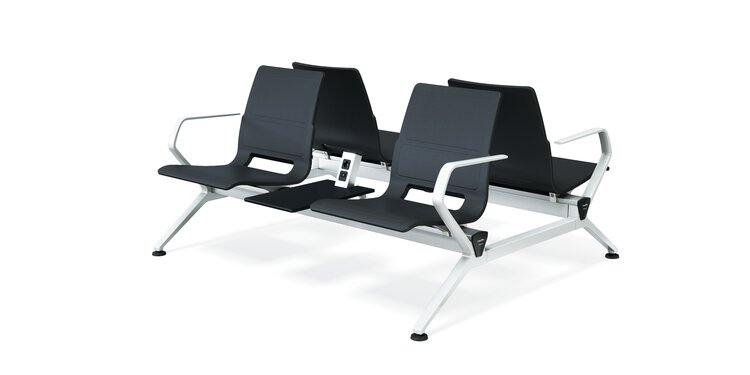 Power and Data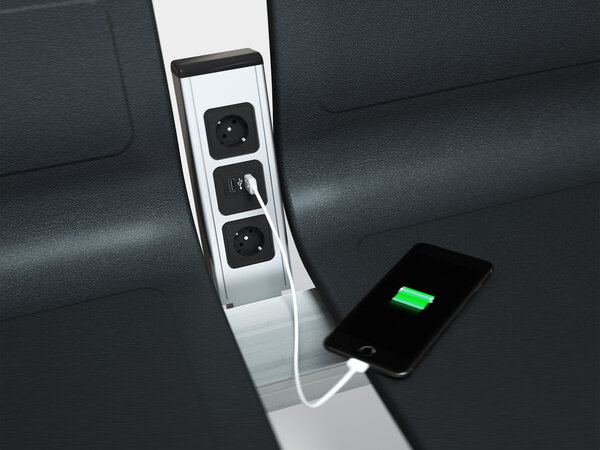 Whether smartphone, tablet or laptop – power and data modules incorporated in the bench configurations and lounge seating are ideally suited for fast charging while using the handheld devices. For instance, with modules fitted with country-specific sockets for the general power supply as well as modern interfaces like USB 3.0. On top of this, the cable ducts guarantee a secure cable management in compliance with the legal regulations. Project-related solutions, e.g. wireless charging, are also available. All conference and training room configurations come with appropriate and adapted power and data modules

Reduced mobility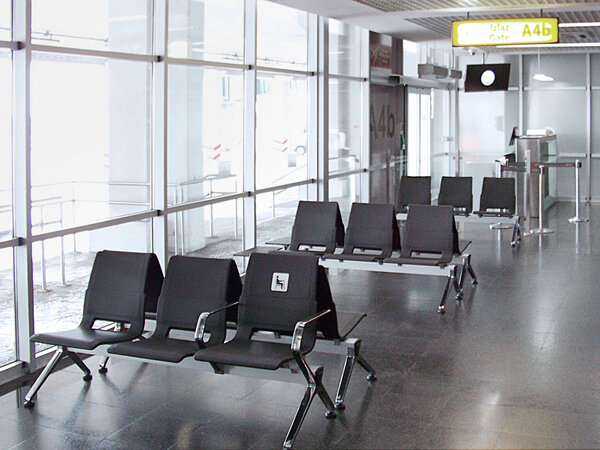 This concept complies with the EU directive No. 1107/ 2006. Our waiting bench series feature seats with either lowered or increased seat height, incorporated in the standard-issue bench configuration, tailored to the wishes of passengers with reduced mobility. In addition, our portfolio comprises several series featuring variations available in different seat heights, making it easier to take place or get up. Practical accessories, such as the walking stick holder or the wedge-shaped upholstered pad, functionally comple­ment the line-up. Our Bariatric Seating range is geared towards people of corpulent stature and a body weight up to 300 kg, consisting of design-oriented, and extremely sturdy, generously sized variations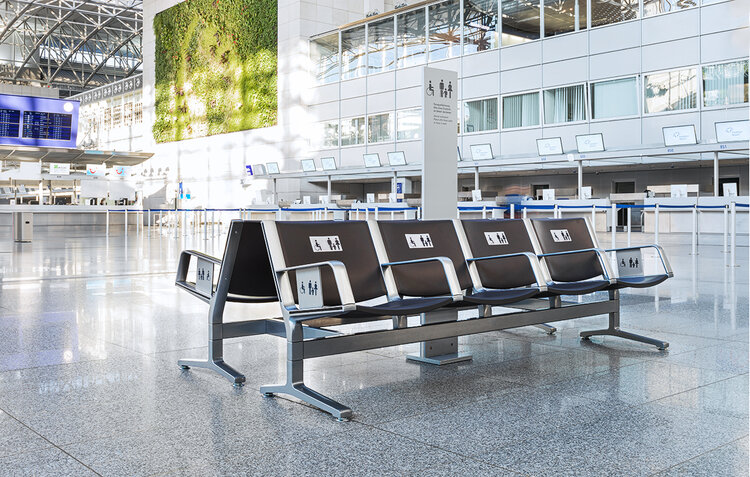 Fire prevention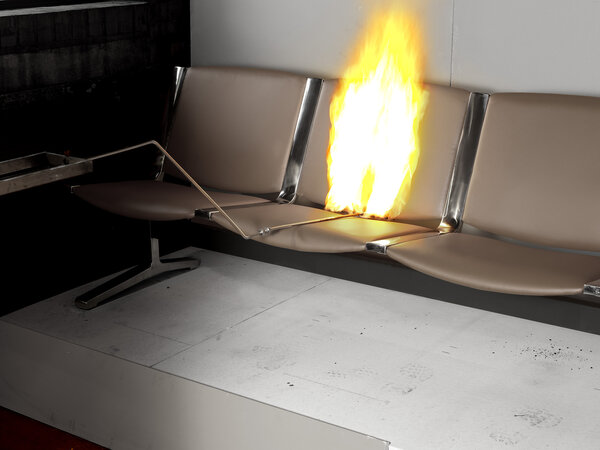 Airports are required to meet high fire prevention standards. All areas furnished with the products Featuring the Kusch+Co Fire Prevention Concept provide more safety in case of fire. Without having to compromise on comfort. This upholstered seating features a special fabric "flamline" (approved by the building authorities and certified non-combustible acc. To DIN 4102 A2) incorporated between the upholstery foam and fabric as a flexible, non-filling protective layer.
As a result, the seating fulfils four life-saving objectives: being self-extinguishing, reducing the smoke development, preventing an incipient fire from spreading out, and not turning into an additional ignition source.
Kusch+Co GmbH
Airport Division

Ingmar Krupp
Head of Airport Division
PO. Box 1151
59965 Hallenberg
Germany

T +49 2984 300-273
M +49 178 5354722
Sichere E-Mail