New exhibition at showroom of Gabriel in Barcelona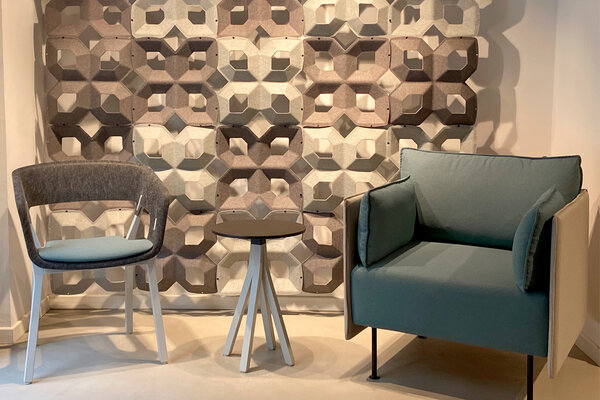 We are pleased to announce that Gabriel is hosting a new exhibition at their showroom in Barcelona: Fabrics & Furniture – a collab between Gabriel, Nowy Styl and Kusch+Co.

Kusch+Co has recently been integrated into the Nowy Styl brand and the exhibition is an exploration of the diverse Nowy Styl and Kusch+Co portfolio and provides an insight into the furniture and fabrics that will influence interiors and indoor spaces in the future. The exhibition covers a broad variety of furniture designs and solutions including soft seating, task seating as well as wall coverings and acoustic furniture, and offers inspiration on Gabriel's comprehensive range of exclusive and sustainable upholstery fabrics. Both all-time classics and product news from Nowy Styl and Kusch+Co are showcased at the exhibition including for example the Tilkka armchair, the Formo curtain panels, the Dotto Ball and the Njord family.

A highlight is the relaunch of the renowned ¡Hola! chair designed by Barcelona-based designer Jorge Pensi. The ¡Hola! chair is renowned for its excellent functionality, timeless aesthetics and outstanding comfort level. The reinvented classic will be unveiled by Kusch+Co during the second week of April and features back and seat in different colours and wooden legs in beech or oak.

The exhibition runs from March 4th to April 16th 2021 and is open by appointment only.

Contact Lucia Kortscheff, l.kortscheff@kusch.com or Jesús Benito, jba@gabriel.dk to book a meeting and a personal tour of the Gabriel/Nowy Styl/Kusch+Co exhibition. Please note that we take all necessary precautions to ensure a safe visit.
For further information on Gabriel and Nowy Styl,
please visit www.gabriel.dk and www.NowyStyl.com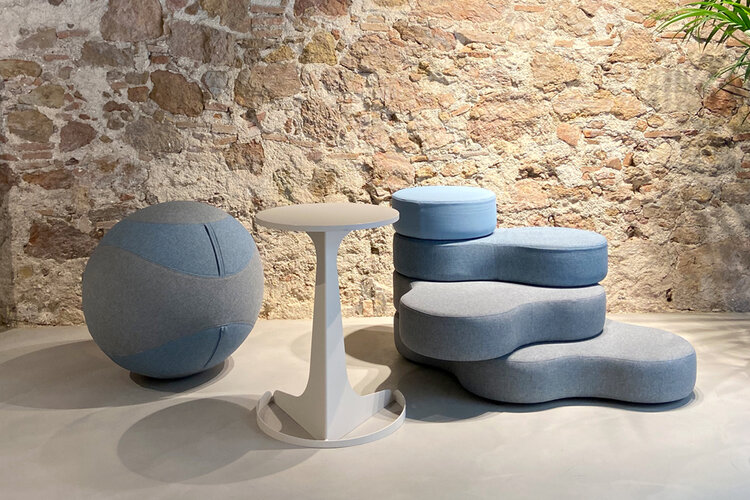 Lupino never ceases to surprise!
Seat shells in two heights, now optionally available with higher armrests.
A functional alternative offering excellent support when taking a seat or getting up.
Instead of a separate seat pad, the upholstery is seamlessly incorporated in the seat frame, resulting in a hygiene-oriented variation that is easy to clean.

Flyer Lupino News21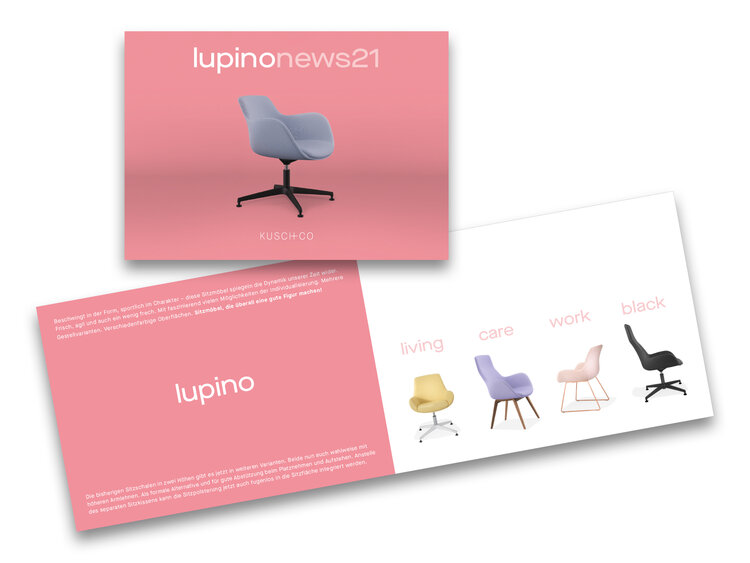 ¡Hola! Forever young – some chairs simply don't grow old!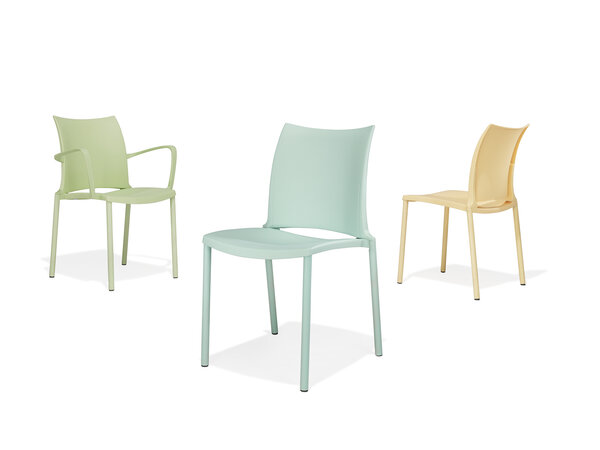 New:

¡Hola! Colour – a firework of colours, now available with the back and seat in different colours.
¡Hola! Wood – featuring steel legs covered with wood, either beech or oak.
¡Hola! Table – table with matching design aesthetics complete this product family functionally
¡Hola! Black Edition – entirely in black, upmarket and classy
¡Hola! Hygienic – Featuring a hygienic concept geared towards a safe cleaning and disinfection.

Flyer ¡Hola! News21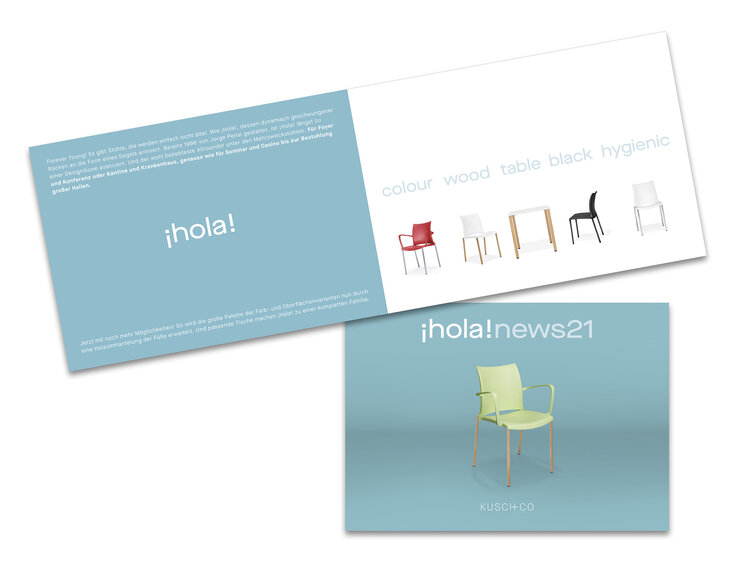 Creva desk wins award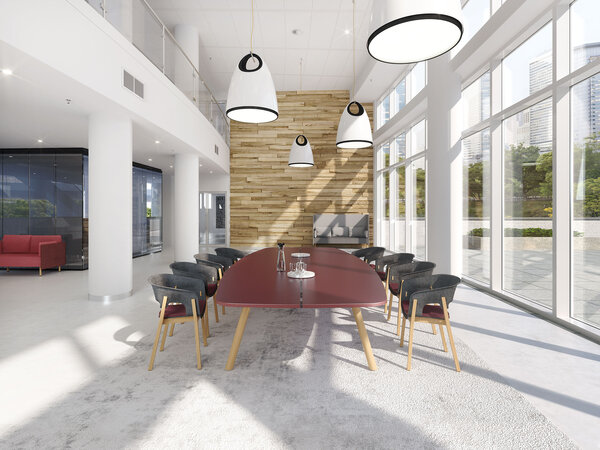 The Creva product family is on a run. Following the "German Design Award 2021" for the Creva soft series, the table series Creva desk, designed by the Cologne-based designer team kaschkasch, has been distinguished for its excellent design quality. The international expert jury of the "Iconic Awards 2021 Innovative Interior", an association owned by the German Design Council, awarded the distinction "Winner" to the series 6800 Creva desk in the category Furniture.
Kusch+Co at the Airport Berlin Brandenburg
The lounge's interior design could hardly be more appealing. With its 910 square metres and a capacity of more than 200 seats, the lounge Tempelhof raises the bar with regard to the overall comfort level. Furnished with Creva soft, the lounge offers extremely comfortable as well as visually and acoustically shielded seat units. All seats feature a USB charging connection. On top of this, the small seating arrangements with the armchairs Lupino invite the passengers to take a seat. The main attraction are the large floor-to-ceiling windows; from the Colani loungers, one has an excellent view of the airport apron. The exclusive Lounge Tempelhof is without a doubt an architectural highlight!
Creva soft award winner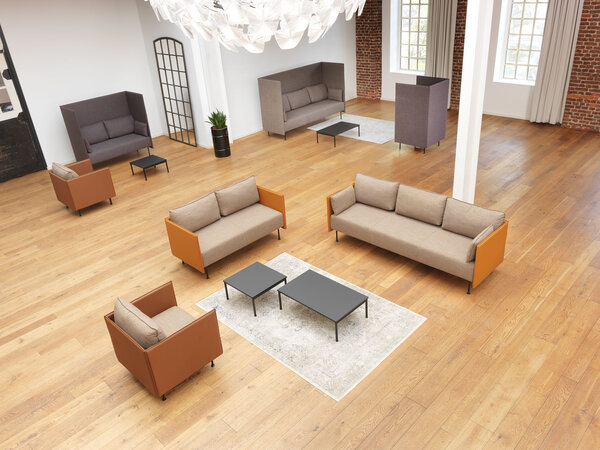 Winner of the German Design Award 2021
We are happy to announce that one of our newest series has won the German Design Award 2021. The series 7900 Creva soft has received the "Special Mention" Award for "Excellent Product Design" in the category "Office Furniture". Together with Florian Kallus and Sebastian Schneider from the design team kaschkasch, we are extremely happy about winning the "German Design Award 2021". This much-coveted award ranks among the most renowned design prizes worldwide. Whoever is able to assert oneself against this stiff competition, has proven to be among the best in the furniture trade. A testimony to our work and to the good taste of our customers.

Learn more.
Series 7900 Creva soft
Hygienic Solutions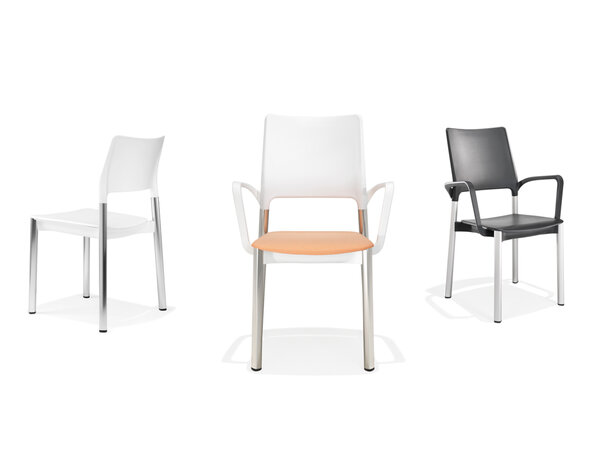 We have something against viruses, microbes and co.
The COVID-19 pandemic is pushing everyone to rethink their hygiene concept. The risk of transmitting infections has never been higher than it is today.

Unsuited furniture may be one of the reasons. Standard-issue furniture usually features open-pored surfaces or inaccessible spots that make a thorough disinfection almost impos sible. Add to this fact that the upholstery compound resp. fabrics are not always impervious to pathogens.

More hygienic safety!
In all public environments.

Not only hospitals, nursing homes, social institutions and other sensitive environments are looking for ways to offer an improved hygienic safety. This wish extends to restaurants, hotels, offices, schools, universities, airports … to all environments where pathogens can spread rapidly. Transmission occurs, for instance, through the contact surfaces on chairs and tables.

We have a long-time experience in the field of hygiene, and more specifically, with regard to cleaning and disinfection. When it comes to hygiene in contract environments, we have acquired a reputation as experts. Since 2006, we produce hygiene-oriented furniture.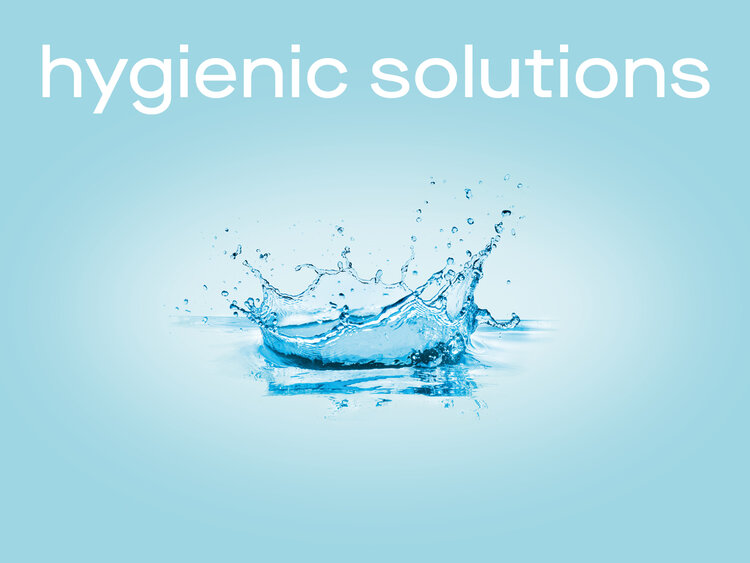 Project KARMIN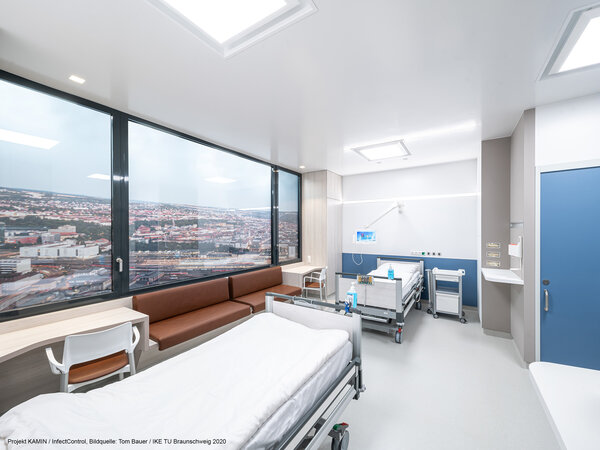 The scope of the research project KARMIN (hospital architecture, microbiomes and infections in hospitals) was to develop a prototype for a new type of infection-preventive patient room.

In their capacity as an industrial partner of this scientific project, Kusch+Co furnished the mock-up patient room with their products. The outcome is slated to be unveiled to the international public at the Berlin World Health Summit in the autumn of 2020. Amongst others, the room features an armchair of the series 3600/3650 Arn: the hygiene experts extensively tested the mechanical cleanability of the plastic and aluminium surfaces. Arn passed with flying colours.
The flyer "Hygienic safety series 3600/3650 Arn" provides more information about the special hygienic properties.