Connect&Create spaces - the essential part of any modern office.
The pandemic with all its lockdowns was a definite game changer – it brought work into the home environment and therefore mean co-workers had to connect in a different way. Day-to-day work flows have changed completely – while connecting via the Internet and the phone enabled people to manage projects, managing creative processes within teams and maintaining relationships was much more of a challenge. Seemingly connected, we were in fact disconnected and the creative part of the job was impaired.

Let's re-connect
Spaces for communication, as they were in the past, are nowadays not up to the job of creating that sense of connection. Offices need real Connect&Create spaces, with layouts that influence people's well-being, facilitate interactions, and encourage them to speak their minds with no barriers or distances. These areas, with facilities that include soft seating configurations and touchdown desks like Creva tables, provide space for discussions, brainstorming and project meetings for groups of different sizes.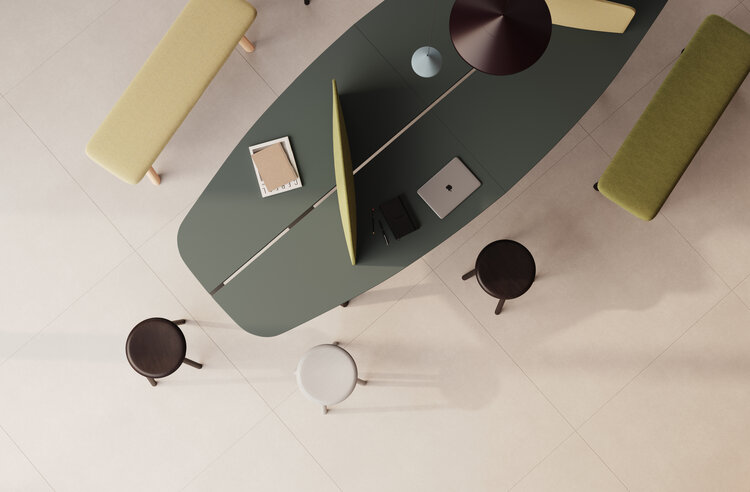 Creva table, Creva stool, Creva bench.


Let's create
When creating, our minds follow their own paths. Creative processes can be intimate, driven by our private thoughts, emotions, and feelings. Our ideas originate in our experiences and perceptions, and can only happen in a reliable, relaxed environment.
The same applies to facilitating real connections between people – they need an environment that encourages openness and collaborative creativity. Well-laid-out spaces themselves play a crucial role in this process, for example soft-seating configurations with matching tables provide places where participants can meet in private.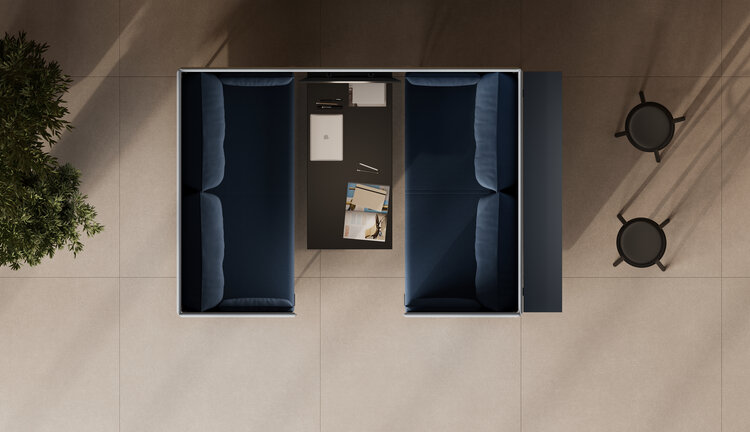 Creva soft-seating, Creva stool.


Connect&Create spaces are like tools that can help to shape the atmosphere and facilitate emotional links.
Once connected, people feel comfortable, focused but not tense – and only then can they become truly creative. When they engage with one another in creative, touchdown meetings, their minds tend to connect as part of the creative work-flow, when one word inspires another and one vision gives birth to another. One person begins with an idea, which is then transformed into a shared vision, and everyone involved has equal ownership. This is the way we can truly connect while creating new ideas, enhancing existing ones and solving problems.

Connect&Create spaces are not designed for creative businesses only – nowadays every industry needs that non-standard, out-of-the-box approach. Complex problem solving is rarely a solitary activity – on the contrary, it requires different points of view, experiences, and expertise being brought together at one touchdown table. That process generates surprisingly relevant, yet unfamiliar solutions.

Connect&Create enhances collaboration processes, which are the essential part of the modern working experience. Explore Kusch+Co solutions for Connect&Create spaces.
In the foreground: Creva soft seating, Embla, Creva table, Creva stool, Creva bench.
In the background: Arn, Comta, Lupino, San Siro, Volpino.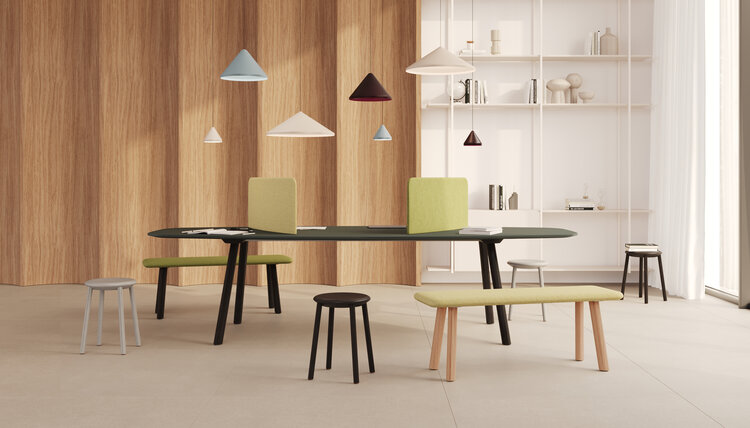 Creva table, Creva stool, Creva bench.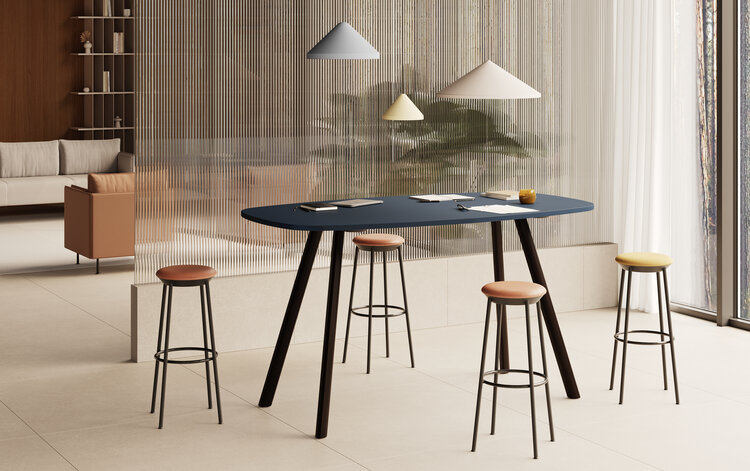 Creva soft seating, Creva table, Creva stool.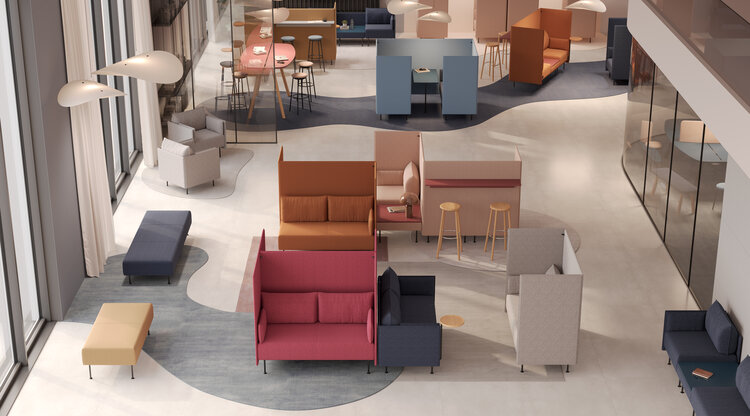 An interview with Justus Kolberg, V-Care designer.
Justus Kolberg is a creative mind behind our latest launch, the V-Care chair, the Red Dot winner. In the interview, he talks about his visions and inspirations behind the V-Care chair.
"Every good design needs an inspiration, and in this case the inspiration came from my vision for this chair: to create a really nice, friendly, welcoming, inviting product that says: come on, seat on me, you will feel good – says Justus. – Another thing on my mind was the smile of the people, that I could try to translate to the chair, so it's the smile on the shell.

My motto in design is "simplicity by intelligence". This chair looks really simple, because there is a lot of intelligence inside, that you don't see. That's why I am happy about the result of the design.

I think the V-Care sled base model was awarded with the Red Dot Design Award 2022 because of the combination of functionality and the design, and because of features regarding cleaning and disinfection. You seat fantastic inside the shell, the design is natural, light and fresh. So it's the whole package.

One of the milestones of this project was the moment, when I had the first shell in my hands – because it's always a different thing when you see it on the paper, or on the video. If you have it in your hands, you can feel the energy, that is coming out from the project, you can sit in it and you feel like "we've got it"!

That was one of my visions regarding this chair, that a chair is not only a piece to sit on. It's creating the atmosphere, it's creating interiors, it's telling you something and in this case especially for healthcare it's important that the chair creates the positive atmosphere, that helps you to feel good."
"Quality is irreplaceable"
At Kusch+Co, quality has always been irreplaceable. It guided us, when we were designing the first chair and it guides us now when exploring new creative avenues. This guiding principle has been, and still is, our answer to any question.

To us, quality is the concept that translates not only into our products, their design, materials and precision we proceed with, but also into our approach. It's our motivation that propels us to constantly explore customer's needs and address them through our solutions. As a man is in the centre of our interest, we don't want to offer him just the products – we want to give him the quality, that can truly improve his work, his everyday and the environment he lives in. Because "Quality is irreplaceable".
Quality of Design
For us, the quality of design is inextricably linked with the quality of our customer's experience. Good design means an exquisite experience in terms of comfort, ergonomics, health, safety, and aesthetics, to name just a few. Our approach to design is human-centric and it's the need of the client that challenges the designer in the first place. It's the function that determines the form.
That's why we are always working with the designers who are willing to take the challenge. They not only apply their experience into the whole design process, but also question proven ways, explore new paths, experiment, and are not afraid to reach out for new solutions, even those that are ahead of their times.

Like us, the designers we work with perceive the design as a competence. They believe that design should serve people and improve their everyday. Also when designing furniture solutions for public spaces, airports, hospitals etc. we not only want to meet strict requirements of furniture pieces dedicated for such spaces, but first and foremost elevate people's experience.
Quality of craftsmanship
A man is not only front and centre in our design process, but also a key reference point of our manufacturing processes. To elevate his experience, we use all our know-how, look for new ways, experiment, and let our master craftsmen spread their wings.

It's always the human touch that makes the furniture into a masterpiece - for this reason, in our production plants we do not only use cutting-edge technology but also traditional craftsmanship, which plays an important part in delivering the value. The precision we proceed with, the accuracy, and the highest attention to detail – the partly hand-crafted production, already planned at the stage of the design process, has always been a Kusch+Co hallmark that guarantees outstanding effects.

When we say "effects", we do not mean "products". We mean the user experience as a whole: the look and the feel, the aesthetics and the comfort, the ergonomics and safety, the versatility and the pleasure of communing with sustainable materials. For us, this is the only significant proof of the quality of design, the quality of materials, and the quality of craftsmanship.